007 James Bond: Pierce Brosnan Web Page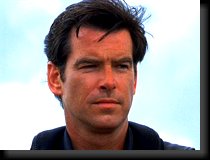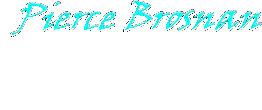 Biography || Filmography || Articles || Picture Gallery || Links


Deutsche Version // German Version


Tomorrow Never Dies Picture Archive

The World Is Not Enough Picture Archive (coming soon)

Date of Birth: May 16, 1953
Place of Birth: Navan, County Meath, Ireland
[Pierce Brosnan Biography from Baseline's Encyclopedia of Film]
Off-hand charm and self-deprecating comic timing were two of the qualities this dashing Irish-born leading man brought to his winning portrayal of the sophisticated, often inept, con man/private investigator Remington Steele on the long-running TV series (NBC, 1982-87) of the same name. Pierce Brosnan, a former commercial illustrator who has garnered frequent comparisons to Cary Grant, became so popular in this role that he was selected by readers polled by a national magazine as the favored actor to replace the departing Roger Moore in the highly profitable James Bond series. However, contractual obligations to Remington Steele, where he starred opposite Stephanie Zimbalist, made him unavailable and the baton was passed to Timothy Dalton. Pierce Brosnan finally received his cinematic license to kill in 1994 when he was named as the new 007. He proved an elegant yet hard-edged Bond in GoldenEye (1995).
Pierce Brosnan entered show business as a teen runaway, working with the circus as a fire eater. He gained somewhat more conventional experience as a member of an experimental London theater workshop before making his stage debut in a 1976 production of Wait Until Dark. Pierce Brosnan's theatrical breakthrough came from playwright Tennessee Williams who chose the handsome young actor to create the role of McCabe in the British premiere of his Red Devil Battery Sign. Additional stage work followed before his film debut in a character turn in the well-received Brit gangster film, The Long Good Friday (1981).
America first discovered the slender, dark-haired performer on TV in the miniseries The Manions of America (ABC, 1981) as Rory O'Manion, an Irish immigrant who makes it big in 19th century America. This successful exposure lead to his being cast as Steele. Pierce Brosnan turned up on a number of specials during the series' run and one failed feature, Nomads (1986), in which he played a bedeviled French anthropologist. The transition to film actor proved difficult, but TV offered regular work in telefilms and miniseries. Pierce Brosnan was well cast as urbane eccentric Phineas Fogg in a miniseries adaptation of Jules Verne's novel Around the World in 80 Days (NBC, 1989). He became a familiar face in made-for-cable thrillers, notably playing special agent Mike Graham in Alistair MacLean's Death Train (USA, 1993) and Alistair MacLean's Night Watch (USA, 1995).
Pierce Brosnan initially found little success in features. He starred in the poorly received Ismail Merchant-produced adventure The Deceivers (1988) but received some positive notices for his portrayal of a Russian agent opposite Michael Caine in The Fourth Protocol (1987). He enjoyed a measure of popular success playing a scientist in the derivative special F/X fest, The Lawnmower Man (1992). Pierce Brosnan also played the supporting role of Stu, the other man, in the immensely successful if mild comedy Mrs. Doubtfire (1993). His subsequent casting as the English secret agent ensured a renewed career as a feature lead.
Pierce Brosnan was married to actress Cassandra Harris from the 1970s until her death in 1991 of ovarian cancer.


[Pierce Brosnan Biography from The MoviePeople Database]
Moving to London with his family at an early age, Irish-born actor Pierce Brosnan made ends meet as a commercial illustrator and cab driver before turning to acting full-time. After training at the London Drama Centre, Pierce Brosnan made his West End stage bow in 1976, and appeared in his first film, The Long Good Friday, four years later. American audiences got their first glimpse of the charismatic, muscular young actor in the 1981 network miniseries The Manions of America. The following year, Pierce Brosnan was cast as the suave adventurer hero of the weekly TV series Remington Steele.
The actor's casual panache and his gift for quippery led the producers of the James Bond movies to select Pierce Brosnan as the new Bond upon the departure of Roger Moore in 1986. At the last moment, the canceled Remington Steele was renewed, and Pierce Brosnan was contractually obligated to remain with the program, forcing him to relinquish the James Bond role to the less suitable Timothy Dalton. It later became evident that the renewal of Steele was something of a subterfuge by its producers to keep Pierce Brosnan on their leash. This professional setback was compounded by personal tragedy seven years later when Pierce Brosnan's actress wife Cassandra Harris died after a long illness. Cast in a choice secondary role in the megahit 1993 comedy Mrs. Doubtfire, Pierce Brosnan regained his motion picture bankability, and at last report the actor was preparing to make his long-awaited debut in the role of James Bond.
Top of this Page
Biography || Filmography || Articles || Picture Gallery || Links
Remington Steele || Stephanie Zimbalist


Links to James Bond pages with more info on Pierce Brosnan can be found below.
More links to Pierce Brosnan stuff can also be found on my Remington Steele Links Page.

Kimberly Last's Main Pierce Brosnan Page. Massive collection of links to almost everything that is available on Pierce Brosnan on the web. You can find her Pierce Brosnan Biography here.

Melissa Jones' Pierce Brosnan Page and her Remington Steele Gallery.

Positively Pierce by Jenny Shield.

Angela Nothdorf's Pierce Brosnan Page.

Pierce Brosnan "IN WHITE" by Chris Martin. Pierce Brosnan wallpapers.

A few Pictures of Pierce and a sound file (222k) at Amy's Place.

Mr Showbiz Celebrities: Pierce Brosnan

Yahoo! WebCeleb: Pierce Brosnan

Movie Times: Pierce Brosnan

The Pierce Brosnan Newsgroup. If your provider doesn't carry the newsgroup, you can reach alt.fan.pierce-brosnan via DejaNews!

Pierce Brosnan's Monthly TV Schedule from TVNow.

E! Online Fact-Sheet Pierce Brosnan.

James Bond pages:
JamesBond.com. The official James Bond Web Site by MGM/UA.
Kimberly Last's James Bond, Agent 007 OHMSS Page. Lots of infos and links.
007 News by James Rumley and MKKBB. Current infos on James Bond. For his Pierce Brosnan biography click here.
Mr. Kiss Kiss Bang Bang! The Web Magazine of the Ian Fleming Foundation. Original articles and extensive info.
MKKBB is also the home of the alt.fan.james-bond FAQ.
(Note: You should read the FAQ before you go to the James Bond newsgroup)
BondisBack.com - The World is Not Enough. Great page, constantly updated.
Nuvs' 007 shrine has a large collection of video clips, sounds and images.
James Bond: 007 Forever by Michael "Icebreaker" Kersey.
Another Pierce Brosnan Biography is on Nathan Smith's Bond, James Bond Page.
Yet another Pierce Brosnan Biography at Sakari Lehtonen's James Bond Page.
For links to more Bond pages visit Kimberly Last's Ultimate Collection of James Bond Fan Pages.
Top of this Page
Biography || Filmography || Articles || Picture Gallery || Links
Remington Steele || Stephanie Zimbalist
Please email suggestions, comments or additions to
dpaeschke@bigfoot.de
Disclaimer: This Pierce Brosnan Page a section of my Remington Steele Page. It's an independent, unofficial
fan effort and is not affiliated to Pierce Brosnan or MTM Productions in any way. It only exists for the
non-commercial, non-profit use by fans around the world and no copyright infringment is intended.
Last update: 09/29/02
Hits since December 1996: